Falken sagt Tanke!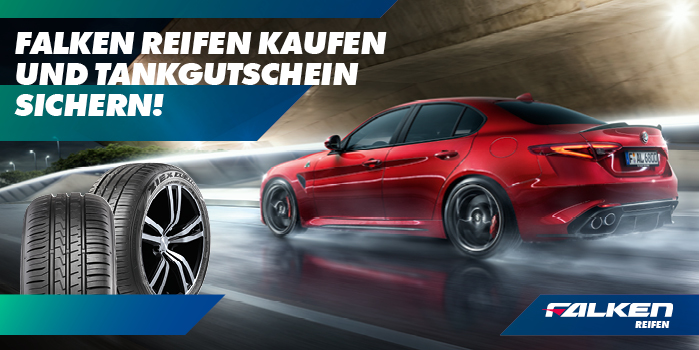 Buy Falken Tires and get a BP Goods Voucher worth 20 EUR!
Promotion period 15.03.2018 to 31.05.2018
Buy a set of (4 pieces) Hawk summer tires from the 15th of March to the 31st of May
AZENIS FK510 or AZENIS FK510 SUV
AZENIS FK453, AZENIS FK453 CC or AZENIS FK453 RUNFLAT
ZIEX ZE310 ECORUN, ZIEX ZE914 ECORUN
from 16 inches or more and get a BP tank and goods voucher 1 worth 20.00 EUR!
In addition Falken raffled 3 times the PlayStation®4 Pro including GT Sport, 25 x 100EUR Shell fuel vouchers and 100 x Shell V-Power SmartDeal annual tariffs (worth 99EUR each).
It's that easy:
Buy a vehicle set Falken summer tires of participation profiles in 16 inches or larger at ReifenDireat in the promotional period.
Fill out the participation form on mit-falken-gewinnen.at and agree to the terms and conditions *
Upload ReifenDirekt.de invoice and complete the registration for the Falken Tankgutschein.
The SHELL tank and goods voucher worth EUR 20.00 will be sent to you directly by Falken afterwards.
Let's go: click here and order Falken Reifen!
1 Tank and Shop Voucher (BP voucher) valid at all BP petrol stations in Austria; not suitable for tobacco products, pre-paid cards or for third-party services (such as lottery).
* Conditions of Participation: Buy now one set of Falken summer tires of the series AZENIS FK510, AZENIS FK510 SUV AZENIS FK453, AZENIS FK453 CC, AZENIS FK453 RUNFLAT or ZIEX ZE310 ECORUN (from 16 inches) and a BP tank and shop coupon for 20,00 € receive. Promotion at Falken dealers in Austria in the period of action from March 15 to May 31, 2018. More information at: mit-falken-gewinnen.at
BP tank and shop voucher valid at all BP petrol stations (BP voucher) in Austria (not applicable for tobacco products, pre-paid cards or third-party services such as Lotto). This offer for the purchase of the winter tires of the aforementioned series applies to consumers, as far as they are of age, as well as for professionals, ie self-employed and freelancers and for partnerships and legal entities, as far as no more than ten vehicles are admitted to the business. In the case of the participation of partnerships and legal entities, the person entitled to participate in the prize must be named. The offer is neither assignable nor transferable and only valid while stocks last. Eligible for participation are all persons over the age of 18, excluding the employees of Falken Tire Europe GmbH, the company BP and their relatives as well as the employees of the participating Falken dealers and BP filling stations. The legal recourse is excluded, as is the cash payment of the profit and the cash payment of the card balance excluded. Only participation cards with attached invoice copies of specialist dealers in Austria will be considered. The promotion is limited to just one fuel voucher per invoice copy. To successfully log in, all fields in the action coupon must be filled completely and legibly. Completed application with proof of purchase by 15 June 2018 by post, fax or e-mail (scan invoice) to: Falken Tire Europe GmbH, Berliner Str. 74-76, D-63065 Offenbach a. Main. The raffle of the PlayStation®4 Pro incl.